Cook Around the World
In 2019 our 5-day summer course gave all budding chefs an opportunity to cook their way around the world! Children visited a number of countries to learn some of their traditional recipes, teaching them new skills and testing their culinary skills!
Each day ended with our Super Chef Clean Up, our Passport Quiz and activities relating to the country visited that day (time permitting)!
Back again for 2020, whether attending for the first time, or back to further develop their culinary skills, children attending our new and improved cookery course can look forward to updated recipes and challenges.
During the week the children's voyage took them to Europe, Asia and Latin America, cooking up recipes such as Patatas Bravas and Chinese Egg Cakes. Their culinary journey began learning all-important basic kitchen skills and food hygiene proficiency, which were developed throughout the week. Following a similar theme in 2020, stay tuned for more updates and our 2020 timetable, released soon!
Duration: 5 day course (Mon-Fri)

Ages: 8-14

Price: £249

Times: 9am - 5pm (extended care available from 8am - 6pm)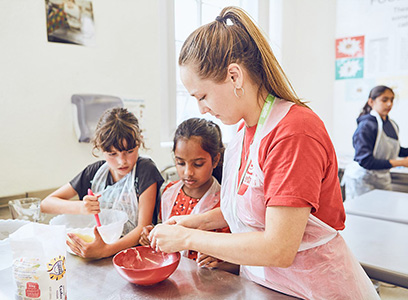 The week culminates in a challenge activity on Friday where children will be asked to create and cook their very own healthy in-flight meal for Super Airways.